Waxel Ninjas is perhaps the first 10k generative art project on WAX. Started in June 2021 with a limited-edition release of Waxel Ninja Avatars, they followed up with a Waxel Ninja Collectibles pack sale and have now announced their intentions to build a virtual world!
Though Waxel World originally planned on the now typical land sale, they decided to move in a different direction and make the Wax Ninja Collectibles (WNC) the core piece of Waxel World. Owning a WNC allows players to find new citizens. And from there, the rest of the game opens up. See the graphic below for their preliminary ideas about how Waxel World will function.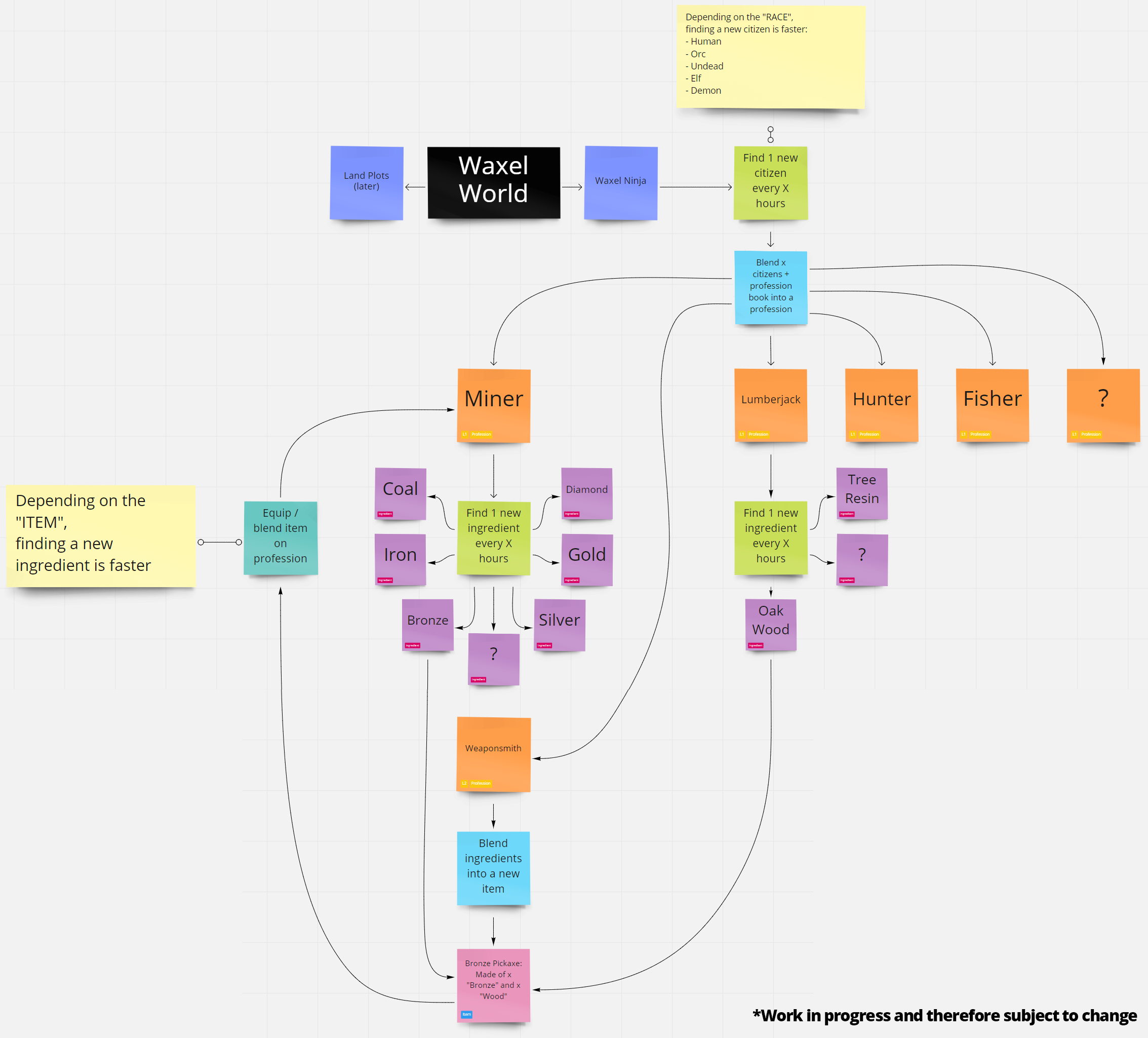 The game is still in the early design stage. The dev team expressed a desire for a complete gaming ecosystem where every NFT has a purpose rather than simply a collectible.
According to their roadmap, creation of Waxel World will begin in Q4 2021, followed by additional NFT sales for things such as armor, weapons, and buildings following in early 2022.
What is Waxel Ninjas?
Waxel Ninjas is the first 10k generative art project on the Wax blockchain. Released in August of 2021, it features, well, ninjas! With a total of 234 million different combinations, each Waxel Ninja is generated out of a set of 75 traits across 10 different categories. Even the animations come in different rarities! You can check the official Waxel Ninjas Collectibles page for a breakdown of the various traits.
Each Waxel Ninja will play a vital part in the upcoming Waxel World, a gaming project currently in development. The project and world are still in the early stages. You can get involved in several ways. There are still Waxel Ninjas Collectibles available. You can also pick up Waxel Goodies, which allow you to blend a special fall background with the ninja animation and weapon of your choice to create a special NFT. It's unclear if these Waxel Goodies NFTs will have a use in the future, but I would bet they will.
They have an upcoming collaboration with Paulie the Penguin for a special sale and NFT event.
Waxel has jumped head first into the Wax community, already creating several collaborations, including special 1/1 Ninjas based on influential people in the Wax community.
One airdrop for Avatar holders already passed. Expect more in the future for those holding WNCs or other Waxel NFTs. Waxel bought enough Nefty token to acquire level 3 staking privileges on the Neftblocks platform, showing that they are here for the long haul.
It's a project worth checking out if you're into 10k generative art, ninjas, gaming worlds, or any combination of the three. Obviously, none of this is investment advice.