Sky Mavis has made a statement in regards to reports of the government of the Philippines investigating play-to-earn gaming and Axie Infinity in particular. The Vietnamese gaming company asks its players to abide to local laws, while they work with governments to encourage innovation.
The company behind Axie Infinity posted the statement on Thursday on Twitter. "We take pride in providing a fun and entertaining experience, while cultivating a player-owned ecosystem", they posted. The team is also very proud that their players can buy and sell to anyone, anywhere and earn an income.
However, the team emphasizes the importance of regulation in their first sentence. They want Axie community members 'to abide to the laws of their home countries'. The team will work with physical nations on a path forward 'that encourages innovation and empowers gamers'.
This means that in some countries SLP earnings will be considered an income, and being a scholar would be considered a job. Depending on the country, there will be taxes over that income. How that will work exactly, remains to be seen. Nonetheless, it's a major statement to the importance and innovation of play-to-earn gaming that governments are cracking down, because the same thing happened a couple of years ago with bitcoin.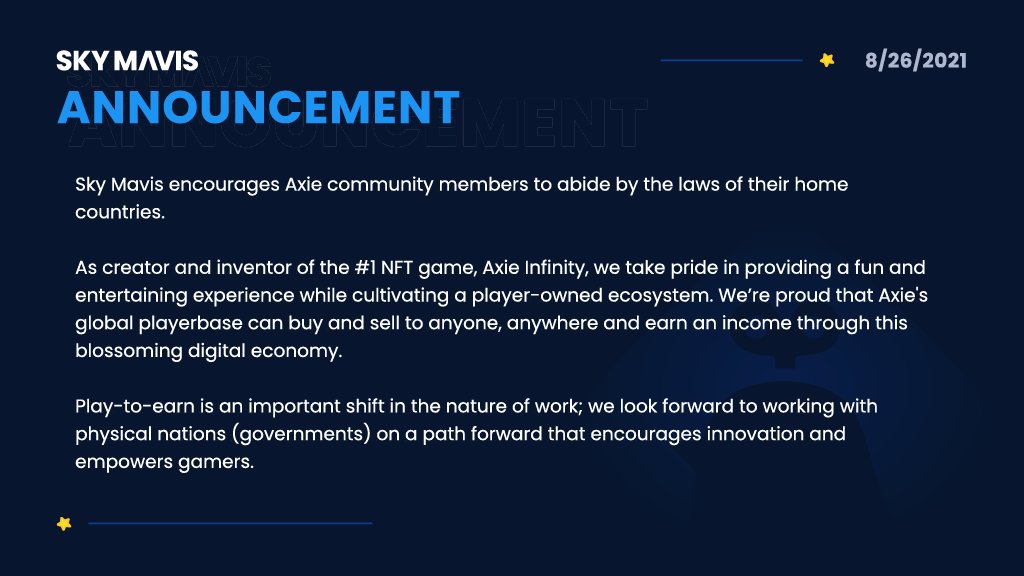 What happened?
The government of the Philippines is looking at play-to-earn games and Axie Infinity in particular, because they feel that both Sky Mavis and players should pay taxes over their earnings. Undersecretary of Finance, Antonette C. Tionko said that they will investigate whether Axie tokens are assets or securities.
Income from play-to-earn games like Axie Infinity, could soon very well be taxed by the government of the Philippines. However, there's still a lot of research to be done. Obviously Sky Mavis doesn't have a license to sell securities in the Philippines. Right now both the Securities and Exchange Commission (SEC) and the central bank are looking into the case. Tionko said that Sky Mavis should be taxes based on revenue generated through the local community.
What is Axie Infinity again?
Let's quickly talk a bit about Axie Infinity. The tactical battle game uses its own, native Ronin sidechain. In the game players need to use 3 Axie NFTs to battle opponents and earn Smooth Love Potions (SLP). Players need to use SLP to breed new Axies. In addition parent Axies can only breed children a limited amount of times. SLP has a demand, while the floor price for an Axie NFT is right now more than $200. In short, you need three $200 Axies to play and earn SLP tokens.
Earning SLP tokens has become a source of income for people in developing countries. Among those countries the Philippines is leading the pack. The organization and economics behind this, is also becoming more professional. Third party organizations like Yield Guild Games are building tools and communities to really turn people into gamers earning income by playing Axie Infinity.